XGC is an analyzer exclusively for screen golf that has the best function in the world. Based on accumulated measurement technology, we have developed an analyzer exclusively for screen golf that can maximize the performance of screen golf. The XGC adds a high-performance embedded CPU, a stable Linux operating system, convenience, and expandability of hardware and provide precise measurement and various analysis solution for users.
Composition Concept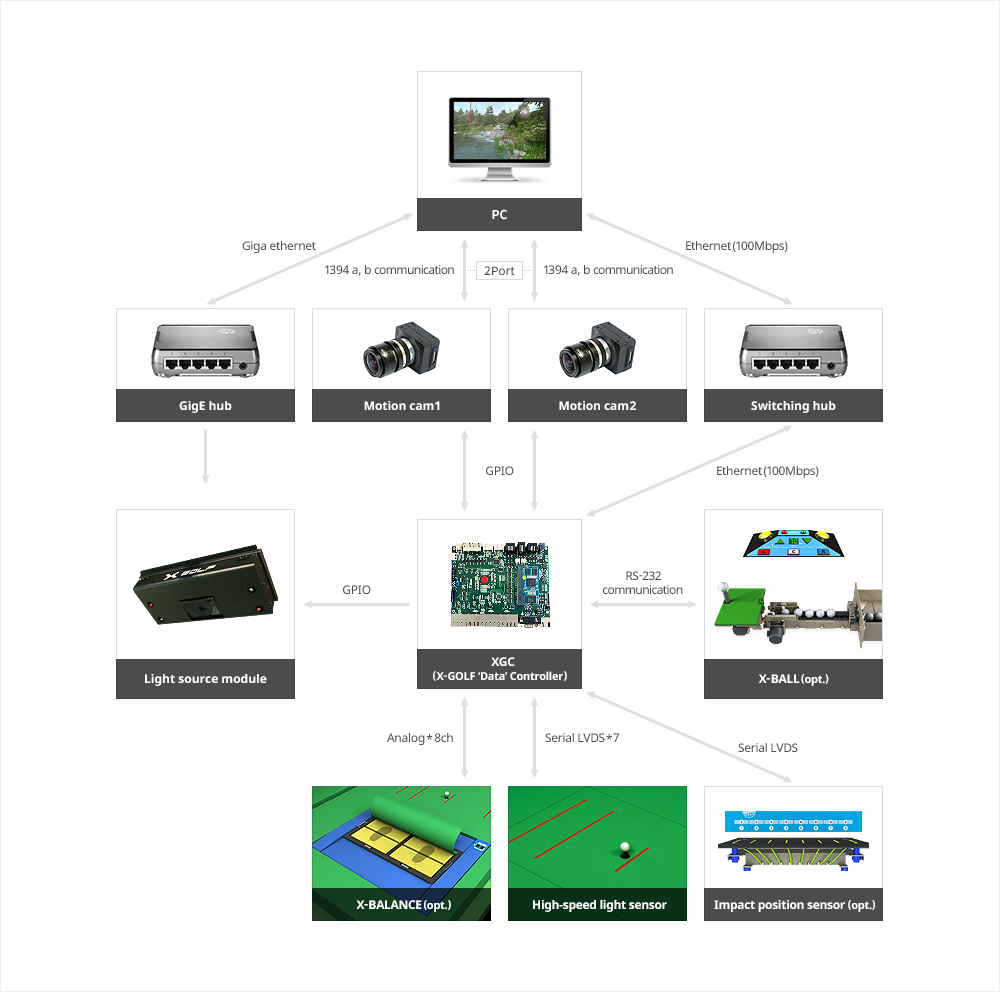 Definition of function
As picture above, the external interface part accommodates all the functions of the existing X-GOLF products. XGC is especially developed as an integrated hardware platform applicable to both X-GOLF ZES, NEX, and EYE.
High-spped serial communication (LVDS) port expanded from 6 ports to 8 ports and ability to process data got 2 times faster than before
Processor : Operates at low power and hight performance by applying Samsung Exynos5 Octa Core MV5422 as a Mobile Application processor, it provides total embedded solution.
Core : ARM Cortex-A15 Quad CPU and ARM Cortex-A7 Quad CPU operating at 2.1GHz and 1.5Ghz, it is significantly faster than existed system.
RAM : LDDR3-1Gbyte * 2Channel(2GByte) has been applied. It can operate at high speed and low power than existed system.
EMMC Memory : Applying 4GByte eMMC Ver5.0, range of application program got expanded and storage capacity increased
FPGA (Spartan6) module : It gives two times faster and 4 times more capacity compared to existed FPGA module
FIFO memory for light sensor data buffering is embedded in FPGA with a programmable IP Core which gives simple hardware structure.
Existed system didn't have a memory to buffer the analog data and not able to save and process separately. With XGC, it can process and acquired the analog data with Analog FIFO (8K*16Bit).
Hardware Composition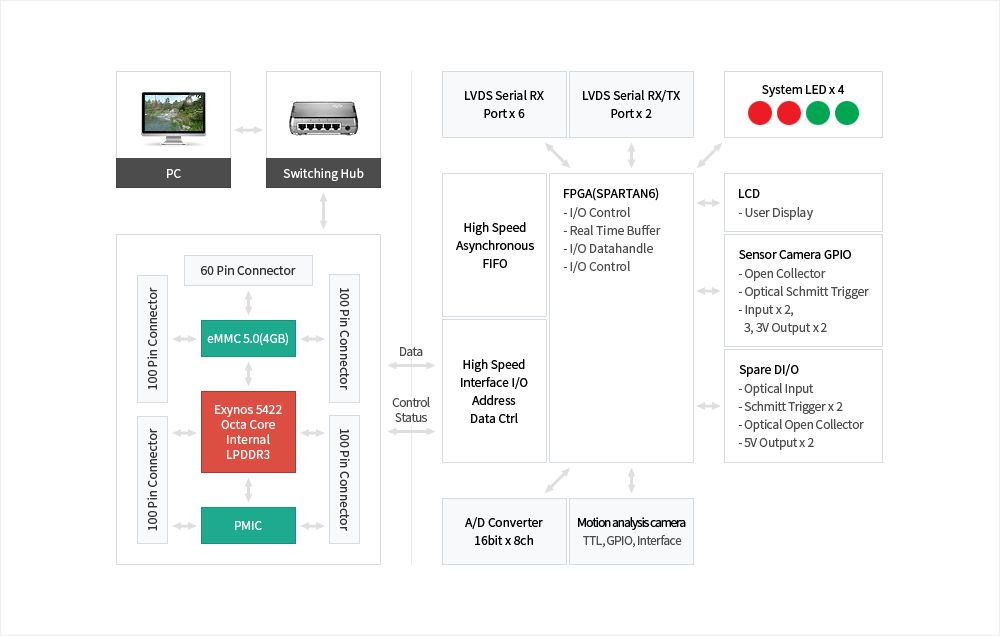 Operating System
Upgraded from 2.6 version of existing Linux operating system to 3.10x version, the system is more stablized. Device driver is continuously available with better pefromance.
Self Test Function
XGC can be connected with test program to check condition of light sensor and weight status.
20~50 Khz Sampling rate operates in high-speed FIFO mode, and the result is transmitted in 10Hz cycle, so that the malfunction of the flashing sensor can be detected instantly.
XGC integrates into one process port to reduce error when port opens, and leads to stable communication.
XGC can create a trigger corresponding to the frame rate of camera and obtain the weight transfer data at that moment.