NEXt Generation System
X-GOLF NEX, the world's best peforming premium screen golf system specially designed for advanced player, is a combination of high-speed light sensor which measures direction and speed of a ball and high-speed camera sensor to measure all the data and reproduce every shot like real.

X-GOLF NEX pefectly replicate fade, draw, back spin and various technique shots that can't be possible for existing screen golf simulators. Also, simply designed sensor structure of X-GOLF NEX better usability for both left and right-handed users and can provide users with swing video, club movement, ball rotation, and weight distribution data with only one shot.

X-GOLF NEX specially developed for golf pros and advanced player and can be used for lesson & club fitting.

※ X-GOLF NEX Video to help understanding sensing algorithm
Features
1. Accuracy
Items measure directly : Speed & direction of a ball, launch angle, trajectory of club head, horizontal trajectory of club head, hitting point, height of tee, back spin, side spin
Items measure indirectly : Carry, run
Swing analysis display

2. Sensor system
Sensor : 4Line/ 384 + 1Line(타격 센서 옵션)/ 8ch
Sampling rate : 50khz
Spin Camera : 1,000sps(Sampling per sec)로 계측
3. Convenience
Auto ball feeding system (X-BALL) Patented
Premium quality
Digital precision control (less than 1mm)
Device prevents ball clogging
Auto adjustment of tee height depending on player
Auto detection of a ball presence
Static prevention
Tee height communication
Zero-failure construction
Self-examination
Automatic tiling plate (X-PLATE) Patented
Premium quality
Digital precision control (less than 0.1°)
Auto and manual control
Displays controlled values
Emergency operation feature
Precise calibration device
Zero-failure construction
Self-examination
Display and save shot record Patented
Output on site and management by remote control
Auto and manual control of mini-map
Auto and manual control of game map
4. Extendability
The finest swing analysis Patented
Swing video (Std. : 60FPS, Opt. : 120 or 300FPS)
Weight transfer curve (120FPS/ All directions)
Speed of a ball
Direction of a ball
Launch angle of a ball
Speed of club head
Trajectory of club head (Horizontal)
Approach of club angle (Horizontal)
Club's initial point of contact
Side spin rate of a ball
Back spin rate of a ball
Web-based management and lesson
Online lesson system
Store management
Customer Service
Online screen golf tournament
Mini-Game
Analysis/practice mode with improved user's convenience
Analysis / practice mode is a feature that allows users to determine through a golf course or driving range of the target data specified by pitches acquire and practice swing or putt away from the screens.
Auto save recents 10 shots per club - Recent 5 videos will be displayed.
Draw Feature : Draw figures on the swing video
Swing statistics by club will be displayed using figure and graph
Display 7 different divided movements
Intuitively designed all features are easy to use for analysis/practice
Adjustable playback speed for swing video
Simple images to display club path and ball direction
Provide the spin image for a ball captured by a spin camera
Web-based golf swing analysis system
Real Full HD Engine that X-GOLF provids able you to enjoy more realism when play the game.
Other companies' Full HD can't compare to our.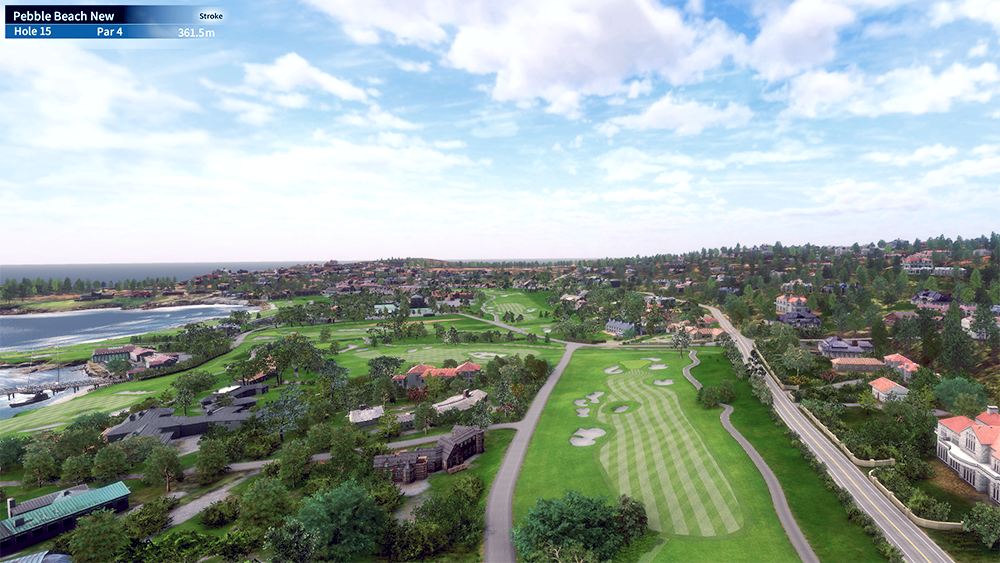 ---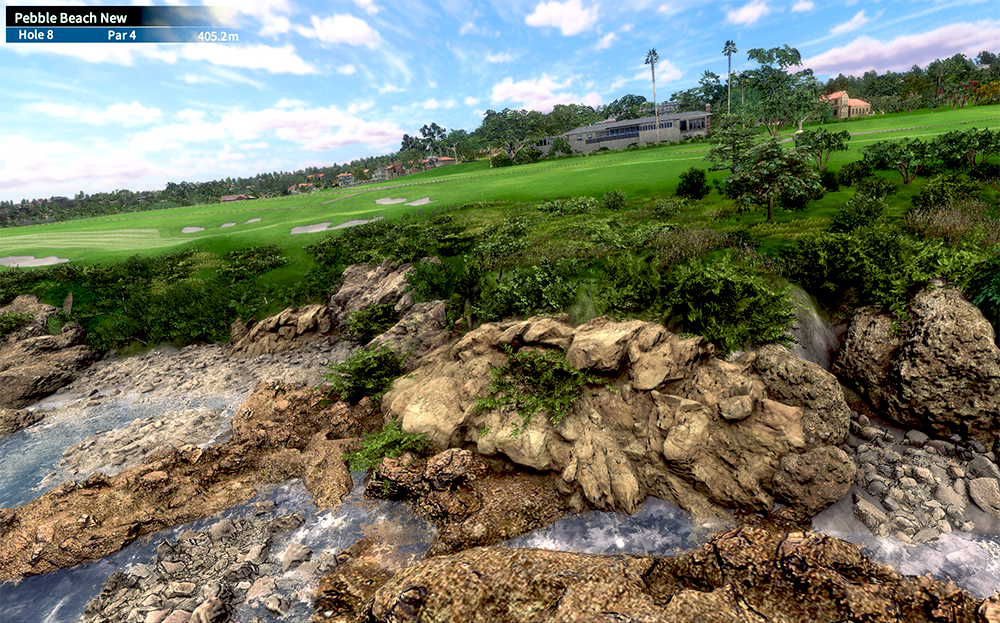 X-GOLF NEX right handed only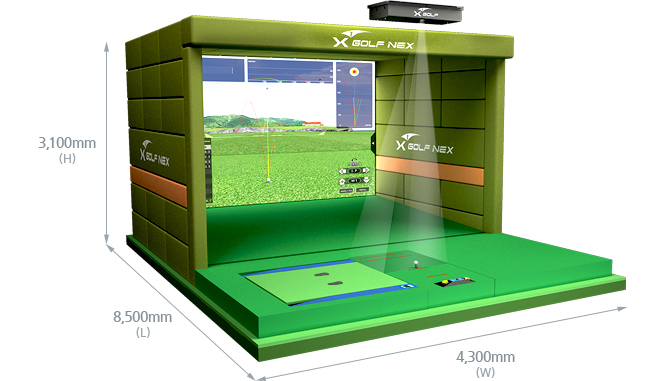 Installation specification for right hand only
Classification
Width
(W)
Length
(L)
Height
(H)
Standard
4300mm
8500mm
3100mm
Minimum
4000mm
7500mm
2950mm
---
X-GOLF NEX both handed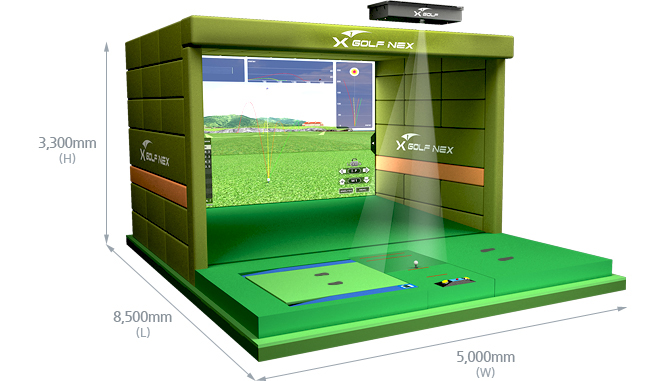 Installation specification for both hand
Classification
Width
(W)
Length
(L)
Height
(H)
Standard
5000mm
8500mm
3300mm
Minimum
4900mm
7500mm
2950mm
---
Sales information
Category
X-GOLF NEX
X-PLATE(Option)
X-BALANCE(Option)
Specification

Screen golf system for both handed players
Web-based golf analysis system using XGC
X-Birdie (Standard)
Auto tee-up module
Customer management & online service (Tournament, mini-game, event)
Customer card reader

Size: 1,400 X 1,020 X 150(mm)
Precision inclination sensor mounted with acceptable range of ±0.1˚
Minimum installation height (150mm/ including artificial turf)
High speed LAN installation
Achieve low noise and reverse-turn feature
Mounted with display
Maximum allowable load: 600KG
Auto-Calibration feature
Manual control feature
Ball clogging prevention feature

Size: 910 X 510 X 60(mm)
Ultra compact high-accuracy load cell 4ch
Maximum weight: 25kg
Accuracy: 99%
Auto-Calibration feature
DATA can be transmitted wirelessly by mounting the wireless module (Zigbee)
Program linkage using mounted 2ch touch switch
External display module can be connected
Built-in battery and battery charging circuit.
Power DC 18V

Option

Analysis camera (60fps) X 2
Impact position sensor module
Advantage and disadvantage for different type of sensors (Radar, vision, light sensor)
Classification
Rader Type
Vision Type
Combination of Light Sensor and Camera
(X-GOLF NEX)
Fundamentals

When players shot a ball outside, radar continuously tracks movement of a ball

Install at least two cameras that has the certain angle towards a ball.
When a player shots a ball, each camera captures a movement by certain period at the same time. (Camera should take at least 2 pictures)
Interpret the size and location of a ball on display and calculate the speed and a direction of a ball.
Interpret and calculate the spin by marked section of a ball on display.

Obtain movement of a ball and club (horizontal and vertical) by using a light sensor
Take a picture of a marked ball using a camera
Calculate space vector of club and a ball
Calculate the spin by interpreting image processing for marked section of a ball

Advantage

Differences may exists depending on performance of simulators, but data that tracked ball movements at outside is accurate.
However, indoor screen golf only tracks short distance, not total movement of a ball and it is comparably inaccurate.

To get accurate rev counts, obtain accurate images of a marked ball and process it with high-performance image processing tool.
Easy installation and user-friendly when it compares to light sensor type.

As for premium light sensor type, it has the best accuracy for repetition.

Disadvantage

When radar type is used to track short distance shot happened indoor, analysis data is comparably inaccurate.
Especially, analysis data for short distance approach or putting is not usable as a data.

If camera fails to obtain accurate images of a marked ball, rotation of a ball calculated is inaccurate
For measuring speed or a direction, accuracy is less than using a light sensor.
The technological gap about image processing will have the different deviation of accuracy.

If using a multi-channel, high performance, and high-speed system, it's hard to measure essential element accurately using a high speed.
※ The product specifications are subject to change for improvements.
---
Type and Purpose of Auxiliary Equipment for Golf
1. Launch monitor (radar, vision or combination type)
The main purpose of launch monitor is for club fitting. It reproduces after measuring movement of a ball (space vector, rotation) when making a shot using a test club under specific condition.
2. Screen Golf (radar, vision, light sensor or combination type)
The primary purpose of screen golf is for entertainment and swing analysis indoor. Just like a real game, many players can join to play, and it reproduces after measuring the movement of a ball (space vector, rotation) when making a shot using the variety of clubs.
3. Analyzer for swing movement (vision, sensor, equipment or combination type)
The primary purpose of swing movement analyzer is to analyze swing movement of a player and have different types & performance property. For high-performance analyzer, it reproduces after measuring the movement of a ball (space vector, rotation) and analyzing swing change.
---
Categories for comparison demonstration
about screen golf equipment and methods for verification
Download the performance inspection form
1. Accuracy and repeatability: Accurate driving distance, and reproduction of backspin/sidespin, fat shot, and topping.
1-1. Verify variety of a shot by a pro golfer - driver, iron and putter / Shot (long, short: reproduce backspin/sidespin), miss shot (replicate fat shot and topping), approach (long, short), putting (long, short), etc.
1-2. After measuring a real distance from a tee to the screen, throw a ball by a hand to compare and verify the distance and spin.
2. The latest premium system and program: Perfect 64bit image processing system and sensor & application of 64bit Full HD graphic engine for the first in the world.
2-1. Physical verification
3. Reality of physical engine: A pro player plays a game and demonstrates the different situations
3-1. Observe conditions of a ball's movement and collision for all different type of shots.
4. Reality of graphic: Analyzed by a graphic expert
4-1. Observe levels of precision descriptions and movements by manually scroll to come close to the tree, glass, rock, water, etc., and verify L.O.D. and loading time.
5. Premium function for a game: Functions such as a putting preview, auto adjustment of tee height (able to adjust for every hole), analysis of swing, club fitting, etc.
5-1. Verification of video analysis system (1~2 Channel, 50~300FPS, draw function), Verification of weight balance analysis system (2ch, 4ch)
5-2. Verify the comparison function of shot data by club and player. Verify the synchronization of camera video with data.
6. Games and lessons targeting childeren
6-1. Verify if games and lesson targeting children are available (X-GOLF provides point-based game, level up game, and arcade game)
7. Durability: Verification of consideration started from a design
7-1. Verification of Material and level of precision processing for each part and level of accuracy for assembly (real data provided by maker). Give physical impact by hitting a sensor and a floor with a club, or kicking with a foot.
7-2. Verification of vibration test (condition for vessel navigation)
7-3. Verification of additional documents such as design, quality control chart, etc.
8. Design and safety: Simplicity of overall appearance - height of simulator and design to prevent incident (for protruding areas)
8-1. Evaluation by an expert after looking at ETL Certifications, products, dimensions on drawings and pictures.
9. Convenience for A/S: Digitalization and modularization of all possible components, self-diagnosis and remote connection control features, and self-repairable design.
9-1. Verification of data provided by maker
9-2. Provided documentation: Specification, completion of the inspection, users' manuals, A/S guide, supplementary A/S video, etc.
10. Availability of own development for each part for the system: Possibility of future repair, an upgrade, and prevention of cost.
10-1. Verification of conditions for R&D Center and assembly center
11. WORLD-WIDE BRAND & NETWORK SERVICE : Oversea sales and exhibition participation
11-1. Verification of data provided by maker